Masquerade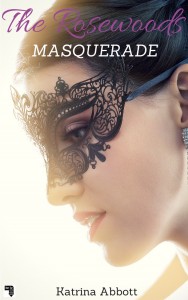 Excerpt from Masquerade by Katrina Abbott.
I glanced at the clock; Dave was late. It was our first meeting as school liaisons and we had plenty to go over, but so far I was on my own.
Not that I was surprised, since it had been five days since Emmie had seen him when the guys had snuck onto our campus, but my nerves were already raw. Every minute I sat there in the study room of the Somerville Library, waiting for Willmont Davidson, or Dave, as I now knew him, my dread over seeing him ratcheted up another notch. Or ten.
And it's not because I didn't like him. Quite the opposite. You see, Dave is the first guy I met when I arrived here at The Rosewood Academy for Academic Excellence just a few weeks ago. He's also the first guy I got a huge crush on. And it turned out he just happens to be the boyfriend of my roommate, Emmeline Somerville.
Somerville. Yes, the library I was in was named after her family who'd donated it to this very posh and exclusive boarding school. And the reason I was sitting there by myself, in her library, was because she and Dave were off making out somewhere, even though he was supposed to be meeting with me. I think that qualifies as some kind of irony.
Letting out a sigh, I returned to my doodling. With Emmie's help earlier (she'd handed over the job of the school liaison to me), I'd made a list of things Dave and I needed to discuss about our joint school events. And there were a lot of events, way more than I'd realized when I'd taken on this job.
The next dance, the Thanksgiving food drive, the Santa Hop and toy drive, and the inter-school mini Olympics. Not to mention the dances that took place next term—it seemed that, to keep the natives happy about Rosewood being an all-girls school, they compensated by having a joint dance with the Westwood boys at least once a month.
I appreciated that as much as the next girl but I had a feeling I was going to need all the help I could get in planning, especially from Emmie who was just about the world's best planner. But if she was going to constantly take off with my school liaison counterpart, this was not going to work.
Finishing up my Jack-O-Lantern doodle beside where I'd written Halloween Dance and a bunch of ideas to go with it, I looked up at the big ticking clock on the wall: almost eight o'clock. Not even counting the fifteen minutes I'd come early, I'd been waiting almost an hour.
Maybe he really isn't coming, I thought. But just then the door opened and the two of them came rushing in. That they were laughing sort of grated on my nerves.
I was a bit angry and disappointed, but I held my tongue—I was still the new girl here and didn't want to make waves. And, even if it didn't seem like it on the outside, I was still feeling weird about having danced with Dave last weekend. Emmie seemed to be over finding out I'd gotten a crush on her boyfriend when I'd first met him (like Kaylee had said, he was just about the hottest guy at Westwood, so who could blame me?), but it still felt awkward, if only in my head.
And no one wants to be the bitchy girl, either. Plus, if I was being honest with myself, if I'd had a boyfriend I'd rather spend time kissing him in the library stacks than let him go to a boring party planning meeting.
I glanced at Dave and then quickly back at the clock, because I had to look somewhere. I couldn't focus on him, no matter how good he looked. Actually, the better he looked, the more I shouldn't look at him, deathly afraid I was going to get some sort of swoony teenager look stuck on my face that Emmie was going to notice.
"Brooklyn!" she exclaimed, dropping Dave's hand and pulling me up and out of my chair into one of her signature hugs. "I'm so sorry we're late and left you sitting here waiting so long. I promise we have a good excuse."
The two of them had matching pairs of swollen lips, so kissing had definitely been involved, but still I looked at her waiting for her excuse. I'd only known her for a few weeks, but one thing I knew about my roommate for sure: she was full of surprises. I was almost looking forward to her story.
But then as I dropped back into my chair and she stood there, staring at me, her smile dissolved and then she rolled her eyes. "Okay, we actually don't have a good excuse, but we did bring you a hot chocolate!"
As she said it, Dave was sliding a to-go cup across the table. He smiled and pulled out the chair across from me to sit down.
"Forgive us?" Emmie pleaded.
I nodded toward the cup. "Whipped cream?"
She pressed her hand dramatically over her heart. "Of course, Brooklyn! We're not animals."
I giggled. It was near impossible to stay mad at Emmie. I nodded toward the chair next to her boyfriend, hoping she'd stick around to help.
Dave craned his neck to look at my notebook. "What have you got there?"
"Just the list of all the events."
He reached across the table and grabbed the notebook with a couple of fingers, turning it toward himself. After a moment, he exhaled. "This is a lot of work."
The way he said it made me think he didn't realize what he'd signed up for. It made me wonder if he'd only signed up because of Emmie. A pang of guilt washed over me. Emmie had traded assignments with me so I could be on the equestrian team; she was now stuck doing laundry in the mornings while I went to equestrian practice and also got to meet with her boyfriend at least once a week, more if we were close to an event.
"I can do most of it," I blurted out, feeling like I owed her, and by extension, him.
Dave looked up at me, frowning. "We're a team. We work together. But I guess we should start with the October dance, since that's the first one."
That made sense. "So should we talk about decorations and Halloween-themed food? Do you know what you're going to dress up as?"
Emmie looked at me blankly and then shook her head. "I keep forgetting you're new."
"What does that have to do with anything?"
She glanced at Dave and then at me. "No costumes."
Masquerade is the second installment of The Rosewoods, an exciting new Young Adult series for readers who love fun, flirty love stories.
---