Acting Out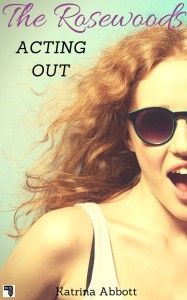 Acting Out is available at your favorite retailer.
Excerpt:
I never wanted a boyfriend.
Don't get me wrong; I love boys. A lot. Probably the only thing I love more than boys is kissing boys, but I've never wanted a steady boyfriend. Just ask anyone; I've been known at Rosewood as the girl who wouldn't settle down with one guy. The girl who never needed to focus on just one guy. The girl who was no stranger to a casual hookup, which is exactly the way I liked it.
Or so I thought.
Until that day at rehearsal when Declan Ryan, my co-lead, future duke, nice guy and the boyfriend of one of my best friends made me realize what I was missing. Wait, that sounds wrong; I didn't suddenly find myself with a crush on him.
Let me explain.
We'd just finished rehearsing for our joint school production of Romeo and Juliet and were all hanging around in the auditorium as we always did before the boys left to go back to Westwood. Thanks to Kaylee (and probably her relationship with the aforementioned future duke) building in some downtime at the end of each rehearsal, cast and crew of the production had quickly realized these rehearsals were almost as good as dances for hanging out with members of the opposite sex. I think Kaylee figured it would help us get along and make for a production where everyone worked well together, but really, we were pretty much all looking to hook up.
On this particular night, there was a bit more buzz than normal because it was the first rehearsal since we'd all returned from Christmas break. Everyone was catching up after being apart for several weeks, talking about what we did for our holidays and inevitably bitching about returning to school. Though looking around, it was obvious everyone was happy to be here, chatting up members of the opposite sex. I know I was, especially after the supremely boring skiing holiday I'd had with my family. Read: sans eligible boys (and even if there'd been any, I was under the very watchful eye of my overbearing father).
Len Miles was talking to me as he often did, which made me a bit sad because he was a really nice guy and obviously had a crush on me, (or maybe my boobs, because that's what he seemed to be talking to), but wasn't the sharpest knife in the drawer, if you know what I mean. As I pretended to pay attention to him—even giving him an encouraging hair toss to bring his eyes upward—something caught my eye. I looked up to see Kaylee and Declan in the wings, standing so close there was almost no light passing between them.
I smiled, happy that my friend had found her knight in shining armor, or—more accurately, I guess—her duke. I watched as he said something to her, making her look down demurely, though whatever it was, she liked it, her mouth turning up and that cute dimple appearing in her cheek. He lifted her chin with a long finger so she had no choice but to look up into his eyes and that's when I saw it. It was like a bolt of electricity passed between them as they looked at each other. Then, a half second later, he leaned down and gave her a tender kiss, just a brush of his lips that meant everything. It was the kind of kiss that if I'd seen it in a movie would make me sigh and grin at the screen like an idiot. I could send a wrecking ball flying at them and neither would notice because they were in their own universe. No, that's not right, they were their own universe.
Me, I want that for me. I want someone to look at me like that, popped into my head. As happy as I was for both of them, my heart suddenly ached. Which was so weird, because guys looked at me plenty; I had one right now with his eyes trained on my chest as he babbled away. I never wanted for attention. But that tenderness, the connection; I'd never, ever expected to want that. Especially because having a guy look at you like that meant he knew you. The real you, not just the funny, sexy girl who guys flock to, who just happens to be a mirage.
Acting Out is available at: Amazon, iTunes, Barnes & Noble (nook), Google Play, and Kobo.