It's here!
I love, love, love experiencing books in audio – it's not just convenient (you can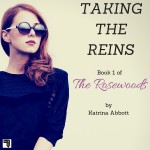 'read' on the treadmill or while driving), but it gives a different perspective and allows you a more intimate way to get into the book. It feels more real.
I'm so pleased with how Taking the Reins turned out and I hope to have more of the books produced, so stay tuned for news about that.
Until then, enjoy Taking the Reins and let me know what you think.
Here's a sample:
Get the full book at Audible, Amazon, iTunes or you can ask for it at your library (via Overdrive or Hoopla).
By the way, if you're new to audio books and they aren't available via your local library (via Overdrive or Hoopla), you can try them for free at Audible – just sign up for a trial and you can get Taking the Reins for free!