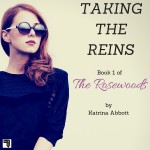 I'm so excited to announce that I'm having Taking the Reins produced in audio! I have to admit that there is something really special about hearing your books performed by a real, legit actor that makes them come to life. Even from the first moment of hearing Brooklyn's voice as she describes her arrival at The Rosewood Academy for Academic Excellence, I got goosebumps.
A huge thank you to Ann Marie Gideon for making Brooklyn so very real! I heard Ann Marie's audition and knew from the first few moments that she would make the perfect Brooklyn.
The book is queued up to be loaded at the retailers and I'll let you know once it's available, but until then, want a listen?
Check out the sample below.
.