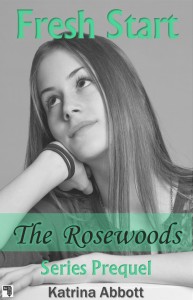 If you haven't read Fresh Start, the prequel to Brooklyn's story, there's no better time than right now to pick it up. (And not to be all mysterious or anything, but it's handy to have read it before you dive into Crossing the Line, Book 10 of The Rosewoods.)
Fresh Start is now free from your favorite retailers! You can grab it at:
It's a quick read at 30 pages, but I think you'll enjoy this insight into Brooklyn's frame of mind just before she starts her school year at The Rosewood Academy for Academic Excellence.
xoxo
Kat