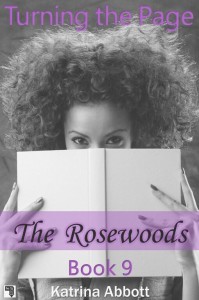 November 26th is release day for Turning the Page, the ninth book of The Rosewoods' series! You can pre-order this book now at:
Turning the Page will also be available at Oyster and Scribd on release day, and you'll be able to get the paperback (with the matching series paperback cover) at that time.
If you're not subscribed to my mailing list yet then you missed out on the bonus free cookbook and extended excerpt. Never fear though – you can still get both right here. (And while you're at it, sign up for the newsletter so you'll get future freebies and other good things!)
Here's the blurb for Turning the Page, which is Celia's story. I hope you'll love it!
Celia Thomas should be living a charmed life; as the niece of Hollywood's current it guy, whose whole family is on the payroll, she doesn't have to worry about money or future job prospects. Except maybe she doesn't want to go into the family business. Although with her marks being what they are, there's a chance she won't even finish her year at The Rosewood Academy for Academic Excellence, let alone find her perfect career. After years of just skating by, she's now flunking everything and the dean isn't going to stand for it for much longer.
At least her romantic prospects are looking up as things start to heat up in the kitchen with Shane, her student supervisor. Then, Evan Jenkins, or Jenks—another long-time crush—starts showing interest. Two guys; what a problem to have! But Celia knows she needs to focus on her marks because getting the boot from Rosewood will kill all her chances at romance and finding a happily ever after. Knowing she can't do it on her own, Celia hires a tutor, but in many ways that just complicates things even more.
It seems the only things she can count on are her friends: her Rosewood girls and the new tutor who seems so worldly and knows a lot more than just algebra and history. But can the girl who seems to have everything really have it all?