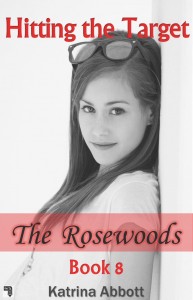 Hitting the Target, the latest installment in The Rosewoods' series is now available at:
Amazon, Barnes and Noble (Nook), iBooks, Google Play, Kobo, Oyster, and Scribd
Brooklyn Prescott couldn't be happier now that she's returned to The Rosewood Academy for Academic Excellence. She has her friends back, has returned to equestrian training and she's just about to turn eighteen. If only she didn't have that Brady complication in her life, everything would be perfect.
But not only is that complication still there, Brady's become even harder to resist after Brooklyn's time away from him; absence makes the heart grow fonder after all. Plus there's that birthday gift he gave her that just about melted her heart. At least he's not her coach while he's recovering from his injury, so keeping her distance is somewhat easier.
That is, until a stolen kiss crushes her resolve. Then Brooklyn's past meets her present in a heart-stopping moment that threatens to topple her carefully constructed house of cards. Brooklyn's half-truths all start to come back to haunt her and she realizes that part of being an adult is dealing with consequences, even when that means hearts get broken.
Hitting the Target is the eighth installment of The Rosewoods, an exciting Young Adult series for readers who love fun, flirty love stories.
I hope you love reading Hitting the Target as much as I loved writing it! There's a lot of Brady in this book and from what you've been telling me, that's what you've been hoping for.
Please let me know what you think of the book, and don't forget to review it at the retailer you purchased it from. Reviews help authors a great deal, and I'm so grateful for the reviews that have been posted so far!
xoxo
Kat