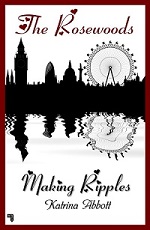 Book 6 of The Rosewoods, Making Ripples, is out today! Brooklyn's story continues in this book, and it takes some different twists and turns that I hope you will all enjoy. This was a fun book for me to write, and I can't wait to hear what you think of it! Click here to read an excerpt from the book.
You can pick up Making Ripples at:
After you've read it, please consider leaving a review at the retailer from which you made your purchase. Reviews really help authors!