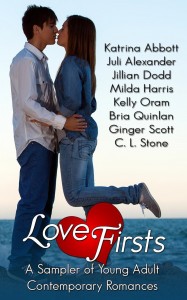 I have so much exciting news to share with you, I hardly know where to start!
First, I am SO honored and excited to tell you about this latest project I'm involved in. Seven really cool and popular YA contemporary romance authors got together to put together a sampler of their AMAZING books and then they invited ME to join them. How cool is that, right?
You've heard of them, I'm sure:
Jillian Dodd, Juli Alexander, Milda Harris, C. L. Stone, Ginger Scott, Kelly Oram and Bria Quinlan. And if you haven't heard of them, here's your chance.
Love Firsts is a sampler of books from these awesome authors (and me) and you can download it FREE!
Download it now from your favorite bookseller:
Amazon, iTunes,Kobo, Barnes & Noble (Nook), Google Play
And if you love it, please review it and tell your friends where you found your new book boyfriend(s)!
Finally, once you download it, you can enter the draw to win a Kindle Fire 6 (there's a trivia question that you'll find the answer for in the book, which is why you'll need to download it first).
But wait, there's more! You can enter to win a Kindle Fire (or $139 in PayPal cash) just for signing up for some great mailing lists (including mine!) and sending out some social media love. Enter right here.